The Volunteer Firefighter
This awesome title is reserved for those courageous few who have volunteered to dedicate their lives to saving others. Without hesitation, they are always ready to respond to any life-threatening situation. With their life on the line, they bravely battle any blaze!
       Firefighters
EDWARD JOHNSTON
THOMAS J. STEWART
JOHN S. PINE
LESLIE ROSS
CHARLES W. OHREL
WILLIAM H. GATCHEL
ELMER HAINES
ELMER MOYER
HARRY BROWN
ALOYSIUS O'NEILL
JAMES REARDON
POP SOMERS
JIM EVANS
GEORGE LYNE
EDWARD PARKINSON
HOWARD IRELAND
EDWARD BIGLAND SR.
William F. Gerace
1962 - 2017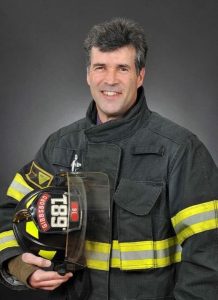 A Firefighter's Prayer
When I am called to duty God, Wherever Flames may rage, Give me the strength to save some life, Whatever Be its age. Help me embrace a little child, Before it is too late, Or save an older person from the horror of that fate. Enable me to be alert and Hear the weakest shout, And quickly and efficiently, To put the fire out. I want to fill my calling and To give the best in me, To guard my every neighbor, And protect their property. And if according to your will, I have to lose my life, Please bless with your protecting hand, Those I've loved in life.
   Ladies Auxiliary
ELEANOR RICHARDSON
SIS HAINES
RITA GIFFIN
COLLEN ROGERS
EVELYN E. REARDON
BESSIE FOX
RITA REYNOLDS
MARGARET KNECHT
PEG SLAVIN
GERT KNECHT
ELIZABETH JOHNSTON
BETTY COLAVITA
LILLIAN WALLACE
AUDREY EDEL
TERRI RICHARDSON
DORIS EVANS